ოფისები
ჩვენ ვმართავთ 10 ოფისს 5 ქვეყანაში, ლოგისტიკური ცენტრების ქსელს მსოფლიოს 80 ქვეყანაში და უსაფრთხოდ ვამუშავებთ ნაკრებ, გენერალურ და არაგაბარიტულ ტვირთებს.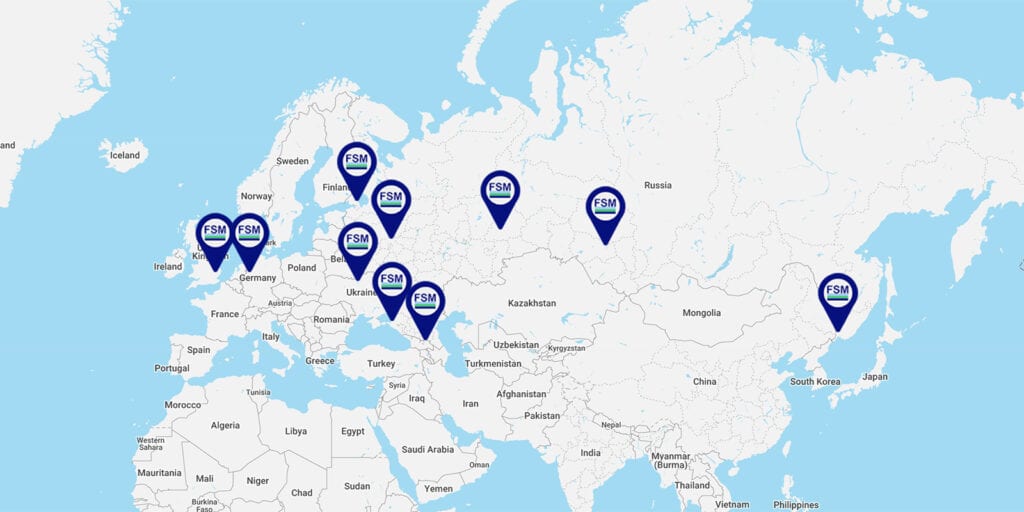 ჩვენი ოფისების ქსელი
Our Head office, based close to London, is strategically positioned to be close to the major sea ports and airports of the South East of England.
ჩვენი კომპანია რუსულ ბაზარზე 15 წლის წინ მივიდა. ამ დროის განმავლობაში, რუსეთში საქონლის ავტომატური მიწოდების და საჰაერო ტრანსპორტის სფეროში ბევრი გამოცდილება მოვიპოვეთ.
F.S.Mackenzie გერმანია მდებარეობს Boenen, სამრეწველო გულში Rhine / Ruhr ფართობი; ახლოს A1 / A2 საავტომობილო გზის გადაკვეთაზე. ჩვენს გერმანულ ფილიალში ჩვენ გვყავს გამოცდილი გუნდი, რომელიც მუდმივად აწვდის პირველ რიგში იმპორტს, ექსპორტს და საზღვაო ტვირთების გადაზიდვას, სატვირთო გადაზიდვებს, საჰაერო ტვირთსა და სპეციალურ მომსახურებას, რომლებიც მუდმივად მოქნილი, საიმედო და ხელმისაწვდომია.
F.S. "მაკენზი გრუპი" პირველად 2009 წელს კავკასიის ქვეყნებში გზის სატვირთო ოპერაციებს შესთავაზა, ხოლო ამ დროისთვის რეგიონის მიმოსვლა სწრაფად გაიზარდა როგორც LCL სერვისების F.S. მაკენზი ინთერნეიშენი უზრუნველყოფს თბილისს, ერევანსა და ბაქოს. 2014 წლის აპრილში, F.S. "მაკენზი ჯგუფი" ამაყობდა თბილისში ოფისში გახსნას.
In 2005, FS Mackenzie International opened its office in Ukraine, based in Kiev, the capital of Ukraine and its largest city. Since then, FS Mackenzie Ukraine has grown to offer following range of services: FTL service from Europe to Ukraine and exports FCL service worldwide via Odessa, Chernomorsk and Yuzhny ports on the Black Sea […]